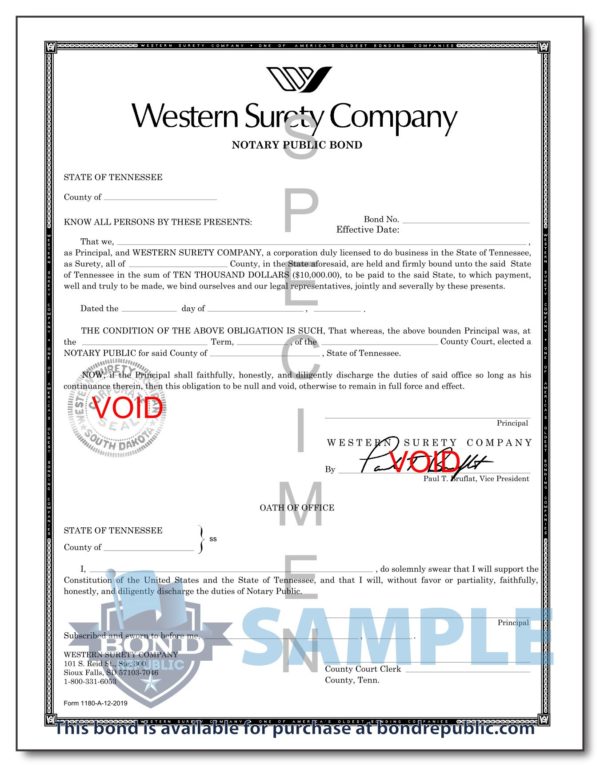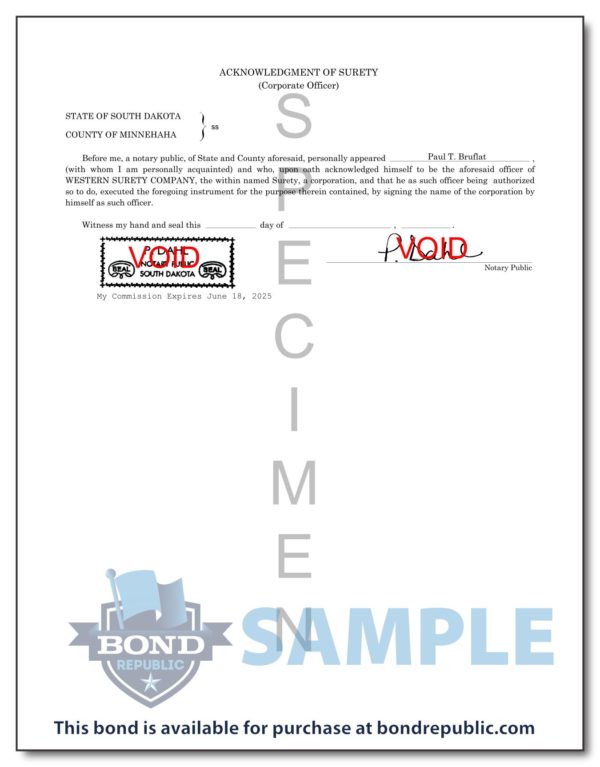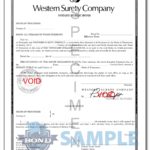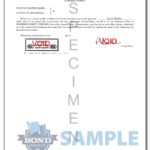 $10,000 Tennessee Notary Public Bond & $10,000 E&O
$50.00
A 4-year, $10,000 bond required by the Tennessee Secretary of State in order to become a Tennessee notary public. To purchase this bond, please enter your commission information and click Add to Cart.
Description
Additional information
Reviews (0)
Bond Content
Description
A 4-year, $10,000 Tennessee notary bond and 4-year, $10,000 Errors and Omissions insurance policy from CNA Western Surety Company, a highly rated insurance company.  These bonds can be sent electronically for quick filing at the Tennessee County Clerk.
There are no refunds once a bond has been filed.
The Tennessee notary public bond protects the public from mistakes made by the notary. If you make an error that results in harm to a third-party in connection with your duties as a notary, you may be liable up to the bond limit of $10,000. For this reason, many notaries purchase additional Notary Errors and Omissions (E&O) Insurance coverage.
Additional information
| | |
| --- | --- |
| Weight | 1 oz |
| Dimensions | 11 × 8.5 × 0.1 in |
| Surety Company | Western Surety Company |
| Bond Term | 4-year |
| Delivery Method | Email, Mailed/Shipped |
NOTARY PUBLIC BOND
STATE OF TENNESSEE
County of
KNOW ALL PERSONS BY THESE PRESENTS: Bond No.
Effective Date:
That we, ,
as Principal, and WESTERN SURETY COMPANY, a corporation duly licensed to do business in the State of Tennessee, as Surety, all of County, in the State aforesaid, are held and firmly bound unto the said State
of Tennessee in the sum of TEN THOUSAND DOLLARS ($10,000.00), to be paid to the said State, to which payment, well and truly to be made, we bind ourselves and our legal representatives, jointly and severally by these presents.
Dated the day of , .
THE CONDITION OF THE ABOVE OBLIGATION IS SUCH, That whereas, the above bounden Principal was, at
the Term, , of the County Court, elected a NOTARY PUBLIC for said County of , State of Tennessee.
NOW, if the Principal shall faithfully, honestly, and diligently discharge the duties of said office so long as his
continuance therein, then this obligation to be null and void, otherwise to remain in full force and effect.
W E S T E R N S U R E T Y C O M P A N Y
Principal
M Paul T. Bruflat, Vice President
By
OATH OF OFFICE
STATE OF TENNESSEE
County of                              ss
I, , do solemnly swear that I will support the
Constitution of the United States and the State of Tennessee, and that I will, without favor or partiality, faithfully,
honestly, and diligently discharge the duties of Notary Public.
Principal
Subscribed and sworn to before me, , .
WESTERN SURETY COMPANY
101 S. Reid St., Ste. 300
Sioux Falls, SD 57103-7046 N County Court Clerk
1-800-331-6053 County, Tenn.
Form 1180-A-12-2019
—————————————————–
ACKNOWLEDGMENT OF SURETY
(Corporate Officer)
STATE OF SOUTH DAKOTA
COUNTY OF MINNEHAHA          ss
Before me, a notary public, of State and County aforesaid, personally appeared Paul T. Bruflat ,
(with whom I am personally acquainted) and who, upon oath acknowledged himself to be the aforesaid officer of
WESTERN SURETY COMPANY, the within named Surety, a corporation, and that he as such officer being authorized so to do, executed the foregoing instrument for the purpose therein contained, by signing the name of the corporation by himself as such officer.
Witness my hand and seal this day of , .
Notary Public
My Commission Expires June 18, 2025