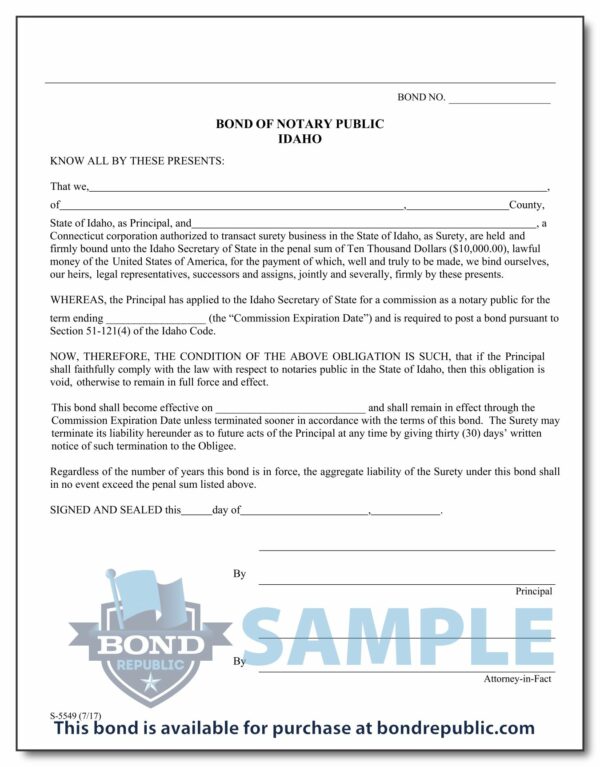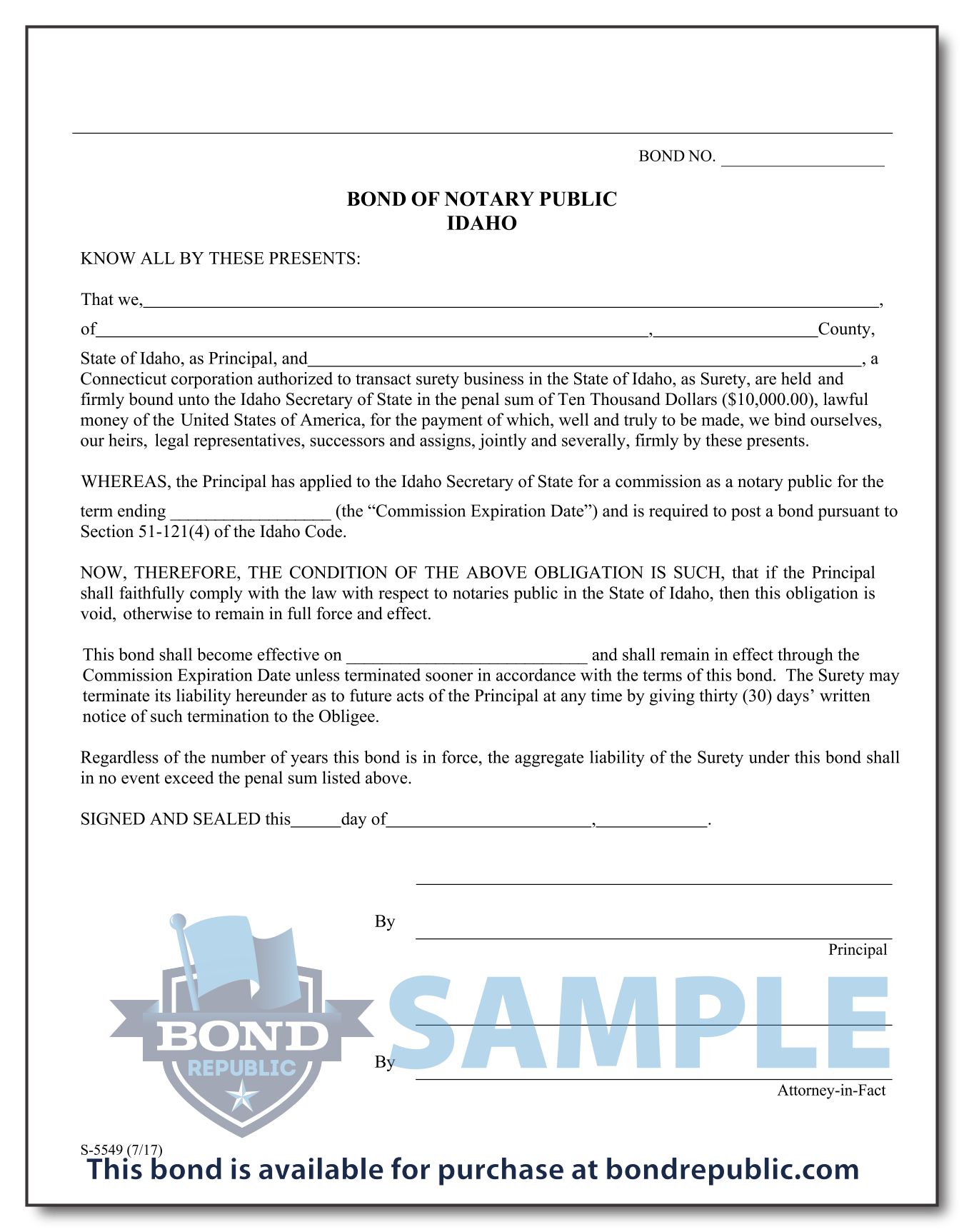 $10,000 Idaho Notary Bond
$40.00
Description
Reviews (0)
Idaho Notary Bond Content
Description
Idaho Notary Bond
This $40 Idaho Notary Bond meets the state's 6-year $10,000 requirement, and ensures compliance with all ID Notary regulations.
Surety Bonds provide financial protection for the public served by the notary, offering peace of mind during notarial transactions. Notaries will be responsible for reimbursing claims on their notary bond.
Idaho Notary Errors & Omission (E&O) is available in various coverage amounts to cover a notary in the event of a claim.
Quick and efficient application process allows for prompt email issuance of Idaho Notary Bonds. Allow up to 1 business day for processing.
BOND NO.
BOND OF NOTARY PUBLIC
IDAHO
KNOW ALL BY THESE PRESENTS:
That we, ,
of , County,
State of Idaho, as Principal, and , a
Connecticut corporation authorized to transact surety business in the State of Idaho, as Surety, are held and
firmly bound unto the Idaho Secretary of State in the penal sum of Ten Thousand Dollars ($10,000.00), lawful
money of the United States of America, for the payment of which, well and truly to be made, we bind ourselves,
our heirs, legal representatives, successors and assigns, jointly and severally, firmly by these presents.
WHEREAS, the Principal has applied to the Idaho Secretary of State for a commission as a notary public for the
term ending __________________ (the "Commission Expiration Date") and is required to post a bond pursuant to
Section 51-121(4) of the Idaho Code.
NOW, THEREFORE, THE CONDITION OF THE ABOVE OBLIGATION IS SUCH, that if the Principal
shall faithfully comply with the law with respect to notaries public in the State of Idaho, then this obligation is
void, otherwise to remain in full force and effect.
This bond shall become effective on ___________________________ and shall remain in effect through the
Commission Expiration Date unless terminated sooner in accordance with the terms of this bond. The Surety may
terminate its liability hereunder as to future acts of the Principal at any time by giving thirty (30) days' written
notice of such termination to the Obligee.
Regardless of the number of years this bond is in force, the aggregate liability of the Surety under this bond shall
in no event exceed the penal sum listed above.
SIGNED AND SEALED this day of , .
By
Principal
By
Attorney-in-Fact
S-5549 (7/17)