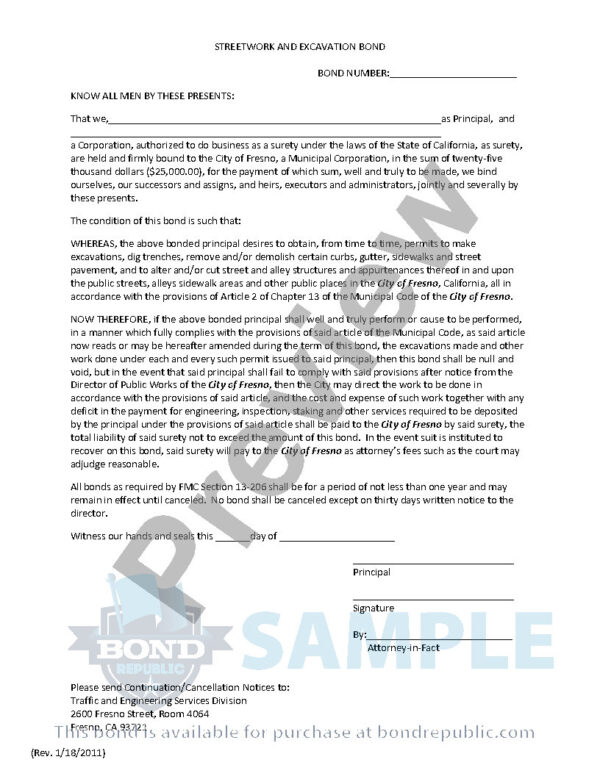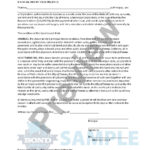 $25,000 City of Fresno – Streetwork and Excavation Bond
$250.00 – $1,000.00
Description
Additional information
Reviews (0)
Bond Content
Description
This $25,000 bond may be required by the city of Fresno for businesses that wish to obtain a streetwork and excavation permit.
Additional information
| | |
| --- | --- |
| Bond Term | 1-year, 2-year, 3-year, 4-year, 5-year |
| Surety Company | Travelers Surety |
STREETWORK AND EXCAVATION BOND
BOND NUMBER:
KNOW ALL MEN BY THESE PRESENTS:
That we, ____________ as Principal, and
Preview
_____________________________________________________________________
a Corporation, authorized to do business as a surety under the laws of the State of California, as surety,
are held and firmly bound to the City of Fresno, a Municipal Corporation, in the sum of twentyfive
thousand dollars ($25,000.00), for the payment of which sum, well and truly to be made, we bind
ourselves, our successors and assigns, and heirs, executors and administrators, jointly and severally by
these presents.
The condition of this bond is such that:
WHEREAS, the above bonded principal desires to obtain, from time to time, permits to make
excavations, dig trenches, remove and/or demolish certain curbs, gutter, sidewalks and street
pavement, and to alter and/or cut street and alley structures and appurtenances thereof in and upon
the public streets, alleys sidewalk areas and other public places in the City of Fresno, California, all in
accordance with the provisions of Article 2 of Chapter 13 of the Municipal Code of the City of Fresno.
NOW THEREFORE, if the above bonded principal shall well and truly perform or cause to be performed,
in a manner which fully complies with the provisions of said article of the Municipal Code, as said article
now reads or may be hereafter amended during the term of this bond, the excavations made and other
work done under each and every such permit issued to said principal, then this bond shall be null and
void, but in the event that said principal shall fail to comply with said provisions after notice from the
Director of Public Works of the City of Fresno, then the City may direct the work to be done in
accordance with the provisions of said article, and the cost and expense of such work together with any
deficit in the payment for engineering, inspection, staking and other services required to be deposited
by the principal under the provisions of said article shall be paid to the City of Fresno by said surety, the
total liability of said surety not to exceed the amount of this bond. In the event suit is instituted to
recover on this bond, said surety will pay to the City of Fresno as attorney's fees such as the court may
adjudge reasonable.
All bonds as required by FMC Section 13206 shall be for a period of not less than one year and may
remain in effect until canceled. No bond shall be canceled except on thirty days written notice to the
director.
Witness our hands and seals this day of ______
Principal
Signature
SAMPLE
By:
Attorney-in-Fact
Please send Continuation/Cancellation Notices to:
Traffic and Engineering Services Division
2600 Fresno Street, Room 4064
This bond is available for purchase at bondrepublic.com
Fresno, CA 93721
(Rev. 1/18/2011)